The year 2007 has been declared as International Year of the Dolphin by the United Nations and United Nations Environment Programme (UNEP).[1]
The UN Convention on Migratory Species, together with its specialized agreements on dolphin conservation ACCOBAMS and ASCOBANS and the WDCS (Whale and Dolphin Conservation Society) have proposed 2007 as the "Year of the Dolphin" ('YOD'))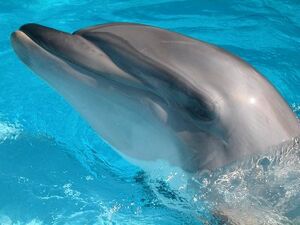 Background
Edit
Dolphins are threatened marine mammals with close ties to human history and culture. Living in oceans and rivers, their survival is becoming increasingly difficult. Dolphins need clean and quiet oceans, protected areas.
The Year of the Dolphin will be part of the UN Decade on Education for Sustainable Development. The campaign is also a tangible contribution towards meeting targets to reduce the loss of wildlife by 2010 which all Governments have agreed through the UN.
Campaign
Edit
The United Nations, member Governments, intergovernmental organizations, NGOs and the private sector (e.g. TUI) are building a strong alliance to achieve a common objective: to protect dolphins.
A crucial factor in achieving this is education to create awareness of dolphin species, educate, inform decision makers and involve local communities.
The designated Patron of the Year of the Dolphin is H.S.H. Prince Albert II of Monaco, who formally launched the year on 17 September 2006. The Prince released a statement reading, "The Year of the Dolphin gives me the opportunity to renew my firm commitment towards protecting marine biodiversity. With this strong initiative we can make a difference to save these fascinating marine mammals from the brink of extinction."
Related topics
Edit
Related Wikipedia content
Edit
External links
Edit
Cite error: <ref> tags exist, but no <references/> tag was found
Ad blocker interference detected!
Wikia is a free-to-use site that makes money from advertising. We have a modified experience for viewers using ad blockers

Wikia is not accessible if you've made further modifications. Remove the custom ad blocker rule(s) and the page will load as expected.