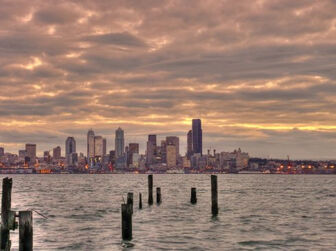 Washington is the northwestern-most state of the contiguous United States. Its northern border lies mainly along the 49th parallel, with the Canadian province of British Columbia to the north. Washington borders Oregon to the south, with the Columbia River forming most of the boundary and the 46th parallel forming the eastern part of the southern boundary. To the east Washington borders Idaho, bounded mostly by the meridian running north from the confluence of the Snake River and Clearwater River (about 116°57' west), except for the southernmost section where the border follows the Snake River. To the west of Washington lies the Pacific Ocean.
Wanted pages and external links

Social media: SCALLOPS, Sustainable Communities ALL Over Puget Sound
Topic links
Edit
The headings in this section provide links to some of the topics in the Ideas Bank. Click on the Ideas Bank link, or the category listing to see a full list of topics.

Social media: 350 Washington State on facebook

Places, projects and networks -

Portal - UK - USA - Australia - New Zealand - Europe - North America - South America - Oceania - Asia - Africa / Campaigns - Building networks -

Village pump
SCA Wiki - Places, projects & networks - Ideas Bank - News - Diary - Resources - Community / Avoid adverts
Ad blocker interference detected!
Wikia is a free-to-use site that makes money from advertising. We have a modified experience for viewers using ad blockers

Wikia is not accessible if you've made further modifications. Remove the custom ad blocker rule(s) and the page will load as expected.