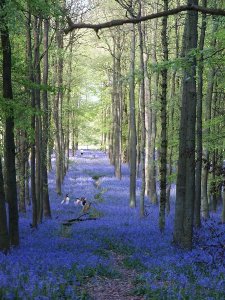 www.VisitWoods.org.uk maps nearly 14,000 woodlands across the UK giving easy access to information on nearly all publicly accessible woods. It is the UK's first interactive website to bring all major woodland-owning organisations into one searchable database. It will enable people to find their nearest accessible wood and directions to it. Visitors keen to share their experience can attribute various features and facilities to the woods they've visited, as well as uploading photographs, recommendations and comments to the site. In this way, the public will help to build an essential portal, contributing to a richer experience for everyone.
There are also inspirational ideas on the site to help people make the most of their visit to the woods including downloadable spotter sheets to help identify Spring signs - a great half term activity for kids. They can even record those Spring signs and contribute to the Trust's Nature's Calendar survey. [1]
External links
References
↑ woodlandtrust.presscentre.com, 16 Feb 2011
Ad blocker interference detected!
Wikia is a free-to-use site that makes money from advertising. We have a modified experience for viewers using ad blockers

Wikia is not accessible if you've made further modifications. Remove the custom ad blocker rule(s) and the page will load as expected.