2010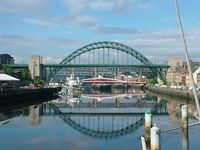 Newcastle, assessed by Forum for the Future as top amongst Britain's most sustainable cities for the second year running, and Leicester, in second place, are outpacing rivals Brighton, Bristol and London. "But all five have set themselves ambitious targets and are guided by long-term visions of how to improve life for their citizens by reducing their impact on the environment and seizing new opportunities in the green economy." 18 Oct [4] place
2009
2007
Brighton and Hove rated as the most sustainable city in Britain, by Forum for the Future, October 20 [7] The UK's 20 largest cities were assessed according to three criteria – their 'environmental impact', 'quality of life' and 'future proofing'. Brighton and Hove as the most sustainable city is followed by Edinburgh in second place and Bristol in third. Liverpool comes bottom of the list, after Hull in 18th place and Birmingham in 19th. Forum for the Future intend to measure these indicators year-on-year.
2006
2005
References
Ad blocker interference detected!
Wikia is a free-to-use site that makes money from advertising. We have a modified experience for viewers using ad blockers

Wikia is not accessible if you've made further modifications. Remove the custom ad blocker rule(s) and the page will load as expected.