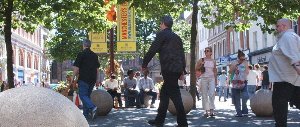 Comment
2011

Empty spaces and meeting places: dealing with division, Julian Dobson, October 26 [1] place

2010

An easy way to ask hard questions about places, people and resilience, Julian Dobson, November 10 [2]
2007
Water butts in every garden by 2010, Environment Minister Phil Woolas, October 31 [3]
2006
New Start editorial August 16 2006, Last week I spent an enjoyable hour talking about a shopping centre in Wigan. Seriously.
New Start editorial June 14 2006, Teenagers have a way of making advice sound moronic. Tell them to remember to take their lunch, bus fare, sick note or whatever to school and they'll reply, 'well, durrr' in that tone of voice reserved for imbeciles, before exiting the house leaving it behind.
New Start editorial February 15 2006 - Buildings, both the elegant and inspiring ones and the ugly ones, impose their presence on a community. Line the Thames with discount warehouse sheds and you'll facilitate a discount warehouse mentality.
Your comment
- Contribute via our
Forums
or a
comment
type article, or on any article via its talk page - click on 'talk' link at top of page
2010
| | |
| --- | --- |
| | UK first country to confirm legislation to require all new homes to be zero carbon from 2016, with all other buildings to meet the standard from 2019. The amendments to building regulations announced today will come into force in October, giving builders 6 months to prepare. 12 March [4] |
| | |
| --- | --- |
| | Tory plan to "give local people a real say in how to shape their area", February 23 [5] topic |
2007
2006
| | |
| --- | --- |
| | Potential of street markets being overlooked and undervalued, according to new research, September 11 |
2005
Related topics
Edit

Ideas Bank - Climate change - Environmental wellbeing - Social wellbeing - Economic wellbeing - Transport and Planning - Local sustainability - Community involvement - Global connections - Personal options - Ideas Bank by place -

Village pump
SCA Wiki - Places, projects & networks - Ideas Bank - News - Diary - Resources - Community / Avoid adverts
References
Ad blocker interference detected!
Wikia is a free-to-use site that makes money from advertising. We have a modified experience for viewers using ad blockers

Wikia is not accessible if you've made further modifications. Remove the custom ad blocker rule(s) and the page will load as expected.