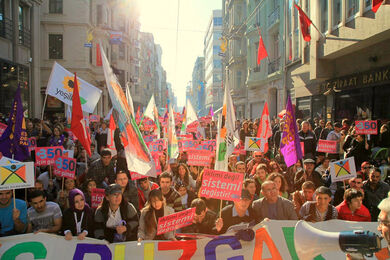 Turkey (Turkish: Türkiye), known officially as the Republic of Turkey (Tur-Türkiye_Cumhuriyeti.ogg Türkiye Cumhuriyeti), is a Eurasian country that stretches across the Anatolian peninsula in western Asia and Thrace (Rumelia) in the Balkan region of southeastern Europe. Turkey is bordered by eight countries: Bulgaria to the northwest; Greece to the west; Georgia to the northeast; Armenia, Azerbaijan (the exclave of Nakhichevan) and Iran to the east; and Iraq and Syria to the southeast. The Mediterranean Sea and Cyprus are to the south; the Aegean Sea and Archipelago are to the west; and the Black Sea is to the north. Separating Anatolia and Thrace are the Sea of Marmara and the Turkish Straits (the Bosporus and the Dardanelles), which are commonly reckoned to delineate the border between Asia and Europe, thereby making Turkey transcontinental.
According to the Turkish Ambassador to Kenya, H.E. Mr. S. Levent Sahinkaya, "A total of 305,362,000 trees were planted by the Turkish Government and the Turkish civil society in the year 2008. We believe that investing in our environment is investing in our future, and we consider the planting of over 300 million trees as a marvelous gift to our children and to the generations to come. The Turkish government will continue investing in the environment and is committed to the creation of an environment-friendly economy."
Turkey has had an impressive tree planting record since the launch of the campaign, planting over 400 million trees in 2007. With slightly over 700 million trees planted to date, Turkey now attains second position in the list of top ten countries in the campaign's roll of honour. [1]
Topic links
Edit
The headings in this section provide links to some of the topics in the Ideas Bank. Click on the Ideas Bank link, or the category listing to see a full list of topics.
Related topics
Edit
References
↑ United Nations Environment Programme, March 30, 2009
Ad blocker interference detected!
Wikia is a free-to-use site that makes money from advertising. We have a modified experience for viewers using ad blockers

Wikia is not accessible if you've made further modifications. Remove the custom ad blocker rule(s) and the page will load as expected.