Trees, woodland and forest

Portal
-
campaigns
-
news
-
Images
-
A-Z
2010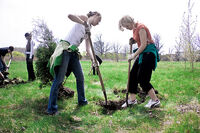 The Big Tree Plant, a new partnership to plant one million trees launched by government, 2 December [1]

Rate of woodland creation in the UK continues to fall despite recent calls for increasing woodland cover from within and outside government. From more than 12,000 ha of new planting in 2004, levels had halved to less than 6,000 ha last year and have fallen further to 5,000 ha in the last planting season. [2] Forestry Commission research has shown that between 1980 and 1997 England suffered a 64% decline in individual trees.
Largest cherry tree in the country found in Cumbria, 11/05 [3] place
Acute Oak Decline, a new disease affecting native oaks in Britain, concerning tree and forestry organisations, 28 April [4]

Over 300 locals turn up and plant over 7,000 trees between them at a community planting day on Saturday January 30th. The Heartwood Forest site has now been filled with around 40,000 trees in just two months, all planted by willing volunteers, with a further 600,000 to go in the ground in the next ten years. [5] place
Ideas Bank - Climate change - Environmental wellbeing - Social wellbeing - Economic wellbeing - Transport and Planning - Local sustainability - Community involvement - Global connections - Personal options - Ideas Bank by place -

Village pump
SCA Wiki - Places, projects & networks - Ideas Bank - News - Diary - Resources - Community / Avoid adverts
References
Ad blocker interference detected!
Wikia is a free-to-use site that makes money from advertising. We have a modified experience for viewers using ad blockers

Wikia is not accessible if you've made further modifications. Remove the custom ad blocker rule(s) and the page will load as expected.