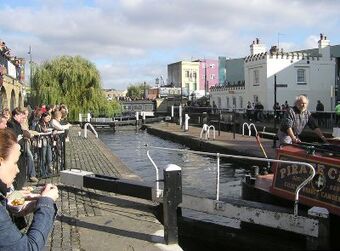 The public transport network, administered by Transport for London (TfL), is one of the most extensive in the world, but faces congestion and reliability issues. It is one of the most complex transit systems anywhere on the planet, with just under 1 billion journeys each year on the Underground alone.
In preparation for the 2012 London Olympic Games, a total of £7 billion (€10 billion) will be spent on refurbishment and expansion of city links, mainly on the Underground. Although winning the Games has acted as a catalyst for action, most of the work would still be completed if the bid had been unsuccessful.
The main Olympic arenas will be sited close to Stratford International station, which is currently being constructed as part of the Channel Tunnel Rail Link. The new high-speed line, due to open in 2007, will be used by the regular 'Olympic Javelin' service with a journey time of 7 minutes between Stratford and St Pancras.
Related topics
Edit
This article is a stub. Someone helped by starting it, but it doesn't have much content yet. You are invited to add content.

Thank you!
Ad blocker interference detected!
Wikia is a free-to-use site that makes money from advertising. We have a modified experience for viewers using ad blockers

Wikia is not accessible if you've made further modifications. Remove the custom ad blocker rule(s) and the page will load as expected.