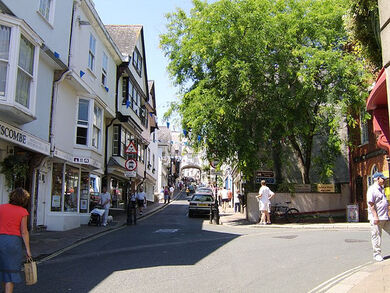 Totnes is a market town at the head of the estuary of the River Dart in Devon, South West England within the South Devon Area of Outstanding Natural Beauty. It is about 22 miles (35 km) south of the city of Exeter and is the administrative centre of the South Hams District Council.
Totnes has a sizeable alternative community, and the town is known as a place where one can live a bohemian lifestyle. There are a number of facilities for artists, painters and musicians, and there is a twice-weekly market offering antiques, musical instruments, second-hand books, handmade clothing from across the world, and local organically produced products.
Topic links
Edit
The headings in this section provide links to some of the topics in the Ideas Bank. Click on the Ideas Bank link, or the category listing to see a full list of topics.
In March 2007 Totnes was the first town in the UK to introduce its own local alternative currency, the Totnes pound, to support the local economy of the town. Fourteen months later, 70 businesses within the town were trading in the "Totnes pound," accepting them as payment and offering them to shoppers as change from their purchases. The initiative is part of the Transition towns concept, which was pioneered by Rob Hopkins, who had recently moved to Totnes.
Ad blocker interference detected!
Wikia is a free-to-use site that makes money from advertising. We have a modified experience for viewers using ad blockers

Wikia is not accessible if you've made further modifications. Remove the custom ad blocker rule(s) and the page will load as expected.