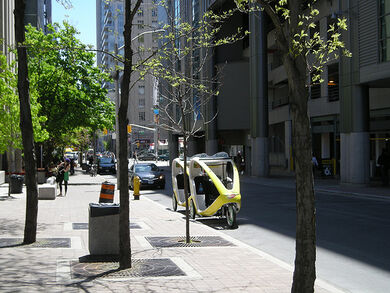 Toronto is the largest city in Canada[1] and is the provincial capital of Ontario. It is located on the northwestern shore of Lake Ontario.[2] With over 2.5 million residents, it is the fifth-most populous municipality in North America, and the 46th most populous in the world. Toronto is at the heart of the Greater Toronto Area (GTA), and is part of a densely-populated region in south-central Ontario known as the Golden Horseshoe which is home to over eight million residents.
Toronto's population is cosmopolitan and international, reflecting its role as an important destination for immigrants to Canada. Toronto is the world's most diverse city by percentage of non-Canadian-born residents, as about 49 percent of the population were born outside of Canada. Because of the city's low crime rates, clean environment and generally high standard of living, Toronto is consistently rated as one of the world's most livable cities by the Economist Intelligence Unit and the Mercer Quality of Living Survey.
March 29 2008 Earth Hour - Toronto is a participating city
Topic links
Edit
The headings in this section provide links to some of the topics in the Ideas Bank. Click on the Ideas Bank link, or the category listing to see a full list of topics.
Related topics
Edit
References
Ad blocker interference detected!
Wikia is a free-to-use site that makes money from advertising. We have a modified experience for viewers using ad blockers

Wikia is not accessible if you've made further modifications. Remove the custom ad blocker rule(s) and the page will load as expected.