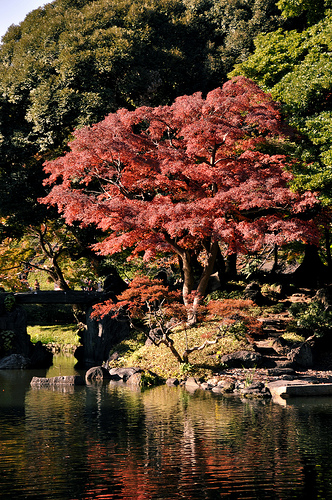 Tokyo, officially Tokyo Metropolis is one of the 47 prefectures of Japan and is located on the eastern side of the main island Honshu-. The twenty-three special wards of Tokyo, each governed as a city, cover the area that was once the city of Tokyo in the eastern part of the prefecture, totalling over 8 million people. The population of the prefecture exceeds 12 million. The prefecture is the center of the Greater Tokyo Area, the world's most populous metropolitan area with 35 million people.
Topic links
Edit
The headings in this section provide links to some of the topics in the Ideas Bank. Click on the Ideas Bank link, or the category listing to see a full list of topics.
Tokyo has enacted a measure to cut greenhouse gases. Governor Shintaro Ishihara created Japan's first emissions cap system, aiming to reduce greenhouse gas emission by a total of 25 percent by 2020 from the 2000 level.
With 36% of its area covered by forest, Tokyo has extensive growths of cryptomeria and Japanese cypress, especially in the mountainous western communities of Akiruno, O-me, Okutama, Hachio-ji, Hinode, and Hinohara.
Related topics
Edit

Wanted pages and external links
Ad blocker interference detected!
Wikia is a free-to-use site that makes money from advertising. We have a modified experience for viewers using ad blockers

Wikia is not accessible if you've made further modifications. Remove the custom ad blocker rule(s) and the page will load as expected.