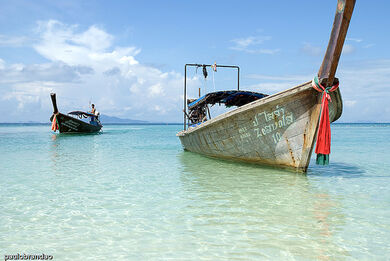 The Kingdom of Thailand is an independent country which lies in the heart of Southeast Asia. The country is bordered to the north by Laos and Burma, to the east by Laos and Cambodia, to the south by the Gulf of Thailand and Malaysia, and to the west by the Andaman Sea and Burma. By the maritime boundary, the country is bordered to the southeast by Vietnam in the Gulf of Thailand, to the southwest by Indonesia and India in the Andaman Sea.
The capital and largest city of Thailand is Bangkok.
"Carbon bank and village development". This innovative initiative of national NGOs and an academic institution aims to encourage, support and enhance community-based indigenous forestry through carbon credit trading to enable successful climate change adaptation and socioeconomic development for local communities and biodiversity conservation. [1]
| | |
| --- | --- |
| | Worried about the looming water shortage in many parts of Thailand, writer Veera Prateepchaikul calls for the drafting and implementation of a comprehensive water policy in the country, February 13 [2] |
Topic links
Edit
The headings in this section provide links to some of the topics in the Ideas Bank. Click on the Ideas Bank link, or the category listing to see a full list of topics.
References
↑ United Nations Environment Programme, May 12, 2009
↑ Global Voices Online, Mong Palatino, February 13th, 2010
Ad blocker interference detected!
Wikia is a free-to-use site that makes money from advertising. We have a modified experience for viewers using ad blockers

Wikia is not accessible if you've made further modifications. Remove the custom ad blocker rule(s) and the page will load as expected.