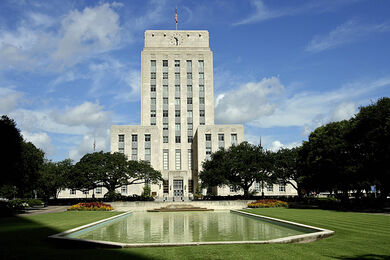 Texas is a state located in the South Central United States. Austin is the state capital. Texas—the second largest U.S. state in both area and population—spans 268,820 square miles (696,200 km2) and has a growing population of 23.9 million. Houston is the state's largest city and fourth-largest in the United States, while the Dallas–Fort Worth ranks as the largest metropolitan area in Texas and the fourth-largest in the United States.
Wanted pages and external links
2011
Effects of Texas Drought Could Be Felt for Years to Come, 08 Aug [1] Scientists predict the effects of a historic one-year drought in Texas could have profound ecological impacts that will be felt for years to come. Only about six inches of rain have fallen since January, compared with a norm of about 13 inches, making it the worst recorded drought in the state's history. Compounded by weeks of record heat, many parts of Texas have seen reservoirs evaporate, large-scale crop failure, and animal die-offs. At least seven reservoirs are effectively dry, and more than half of the state's 3,700 streams and 15 large rivers are below normal rates. topic

Topic links
Edit
The headings in this section provide links to some of the topics in the Ideas Bank. Click on the Ideas Bank link, or the category listing to see a full list of topics.
The state leads in renewable energy sources producing the most wind power nationwide.
References
↑ e360.yale.edu, 08 Aug 2011
Ad blocker interference detected!
Wikia is a free-to-use site that makes money from advertising. We have a modified experience for viewers using ad blockers

Wikia is not accessible if you've made further modifications. Remove the custom ad blocker rule(s) and the page will load as expected.