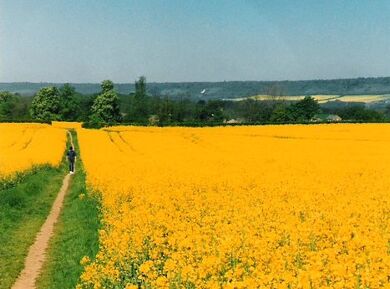 As part of the process of drawing up a South East Plan, a 'Sustainability Appraisal' has been drawn up by consultants, (February 2006). It examines the social, economic and environmental impacts of the growth set out in the plan, and includes a Strategic Environmental Assessment required by EU law.
Findings
Edit
The appraisal, drawn up with input from English Nature, the Environment Agency and English Heritage, warns of:
Growth in road traffic and air pollution. 'Without significant investment and policy action it is likely that private transport and emissions from transport will increase,' (p42).
The planned levels of housing development... will place considerable pressures on transport infrastructure and will cause greenhouse gas emissions, water consumption and waste arising to increase. They are also likely to put more localised pressures on floodplain, landscape/countryside, biodiversity, water resources and air quality.' (p65)
Behavioural change - people switching to greener living, working and travelling - lies 'at the heart' of saving the environment but 'in practice it has not been at the forefront of government policies or initiatives to date. The South East is faced with a substantial gap between its aspirations for behavioural change and its ability to deliver such change. The region will have to rely on extensive Central Government action to achieve the levels of change in behaviour on which the plan is based.'(p65)
'...A shortage of affordable housing which prevents "key workers" and the low paid from living/working in many parts of the region (p35). 'It will be extremely difficult for targets for affordable housing to be met...' (p38).
Next steps
Edit
From Friday, 31 March 2006, the South East Regional Assembly's adopted version of the plan opens for 12 weeks of public consultation, prior to a lengthy inquiry starting in November and running through to March next year - its 'Examination in Public'. The panel running this inquiry will then recommend changes to the plan, and pass it on to Deputy Prime Minister John Prescott for final approval next year.
Reaction to the Sustainability Appraisal
Edit
CPRE, The Campaign to Protect Rural England, is concerned that Mr Prescott may demand that the South East Plan specifies even higher levels of total housebuilding than the 29,000 new homes a year currently set out in the plan - that's 580,000 homes over the next 20 years. If so, he is likely to face strong opposition from many of the local councils represented on the South East Regional Assembly.
CPRE will be responding to the public consultation, arguing strongly for the region's countryside and environment to be protected by making growth as 'green' as possible and stressing the need for a substantial increase in the building of subsidised, affordable homes in the region above current rates.
Related topics
Edit
References and further information
South East Plan section of the South East England Regional Assembly website. (Includes the Sustainability Appraisal Report)
Ad blocker interference detected!
Wikia is a free-to-use site that makes money from advertising. We have a modified experience for viewers using ad blockers

Wikia is not accessible if you've made further modifications. Remove the custom ad blocker rule(s) and the page will load as expected.