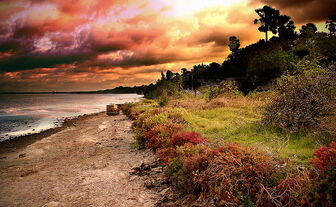 Sri Lanka, officially the Democratic Socialist Republic of Sri Lanka is an island country in South Asia, located about 31 kilometres (19.3 mi) off the southern coast of India. It is home to around twenty million people.
2010 SEED Award Winners The "Rural Enterprise Network (REN)" aims at linking small-scale farmers to input-output markets through improved product quality, access to market information and the establishment of a common brand. By organizing producers in a network of organic agro- and food processing enterprises, the farmers will benefit from joint marketing services. [1]
2009 SEED Award Winners
"Solar energy, education & fishing". National and international NGOs, with the cooperation of public authorities, are working to expand the use of an alternative lighting system in rural villages, through the replacement of kerosene lamps with solar panels. [2]
Sri Lanka commissioning its first solar power plant which can generate 500kw of electricity, 26 August [3] topic

Topic links
Edit
The headings in this section provide links to some of the topics in the Ideas Bank. Click on the Ideas Bank link, or the category listing to see a full list of topics.
Places, projects and networks -

Portal - UK - USA - Australia - New Zealand - Europe - North America - South America - Oceania - Asia - Africa / Campaigns - Building networks -

Village pump
SCA Wiki - Places, projects & networks - Ideas Bank - News - Diary - Resources - Community / Avoid adverts
References
↑ United Nations Environment Programme, May 12, 2009
↑ globalvoicesonline.org, by Rezwan, 26 August 2011
Ad blocker interference detected!
Wikia is a free-to-use site that makes money from advertising. We have a modified experience for viewers using ad blockers

Wikia is not accessible if you've made further modifications. Remove the custom ad blocker rule(s) and the page will load as expected.