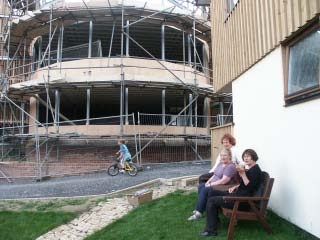 Introduction
Edit
Springhill Co-Housing in Stroud, Gloucestershire, South West England, describes itself as he first new-build cohousing scheme to be completed in the UK. It comprises 35 households plus a Common House where people cook and eat together at least once a week. This substantial additional space makes it easy for people to have smaller private dwellings with a safe pedestrian street through the middle of the site.
Designed by Architype, specialists in timber frame houses, the project shows how a small, inconvenient sloping site can be transformed into a new community. Something in the overall attitude of the site minimises negative and enhances positive environmental and social impacts.
The project includes
Recycling
community composting
high-intensity insulation
PV panels
a Sustainable Urban Drainage System (SUDS)
a car-sharing scheme
The residents all became directors of the development company so were involved in commissioning the construction. Three out of the 35 units are subsidised in perpetuity at 15% below market value. The first residents moved in in 2003.
The high level of single parents at Springhill (nearly half the families with children) shows how co-housing responds to their need for safety, services and social interaction close to home. A third of the residents of Springhill work from home and the nature of the community means there is lots of business support sharing, offering a glimpse of a possible future for home-based enterprise integrated with more sustainable living. As UK households continue to change and shrink co-housing may be an answer more widely.
In January 2006, Springhill Co-Housing was one of four local projects recognised by the Deputy Prime Minister for making outstanding contributions to their communities.
Location
Edit
More about Co-Housing
Edit
Co-housing promotes a very strong sense of belonging and encourages friendly, co-operative and helpful behaviour, including self-policing. In Denmark 3-4% of the population live in co-housing.
Related topics
Edit

External links
References
Ad blocker interference detected!
Wikia is a free-to-use site that makes money from advertising. We have a modified experience for viewers using ad blockers

Wikia is not accessible if you've made further modifications. Remove the custom ad blocker rule(s) and the page will load as expected.