South Korea, officially the Republic of Korea (ROK) and often referred to as Korea, is a presidential republic in East Asia, occupying the southern half of the Korean Peninsula. Also known as the "Land of the Morning Calm", it is neighbored by China to the west, Japan to the east and shares a border with North Korea to the north. Its capital is Seoul, a major global city and a leading international financial centre in Asia, being the second largest metropolitan city in the world.
2011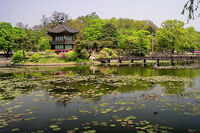 New UN facility on sustainable development opens in Republic of Korea, 19 October 2011 [1]

2009
Topic links
Edit
The headings in this section provide links to some of the topics in the Ideas Bank. Click on the Ideas Bank link, or the category listing to see a full list of topics.
References
↑ United Nations Environment Programme, January 9
Ad blocker interference detected!
Wikia is a free-to-use site that makes money from advertising. We have a modified experience for viewers using ad blockers

Wikia is not accessible if you've made further modifications. Remove the custom ad blocker rule(s) and the page will load as expected.