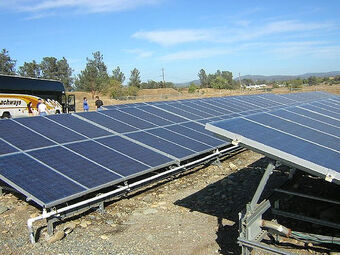 One megawatt solar power can save 88,932/5 tons of CO2 a year, 24,678,630,000,000/17 btus of energy, 6,855,175/1,122 tons of Al, 296,440,000 gallons of  H2O, (equal to 741,100 trees)
DESERTEC plan to be debated in the House of Commons. Debate scheduled for Thursday the 28th of February. [1]
Articles
Edit
Wanted pages and external links
Desertec W
Solar hot water W
TREC and TREC-UK, site includes information on the The DESERTEC concept
This article is a stub. Someone helped by starting it, but it doesn't have much content yet. You are invited to add content.

Thank you!
References
Ad blocker interference detected!
Wikia is a free-to-use site that makes money from advertising. We have a modified experience for viewers using ad blockers

Wikia is not accessible if you've made further modifications. Remove the custom ad blocker rule(s) and the page will load as expected.