Singapore, officially the Republic of Singapore, is an island microstate located at the southern tip of the Malay Peninsula. It lies 137 kilometres (85 mi) north of the equator, south of the Malaysian state of Johor and north of Indonesia's Riau Islands. At 707.1 km2 (273.0 sq mi), Singapore is one of four remaining true city-states in the world. It is the smallest nation in Southeast Asia.
2012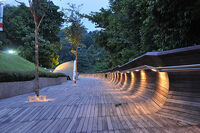 The Greening of Singapore, 14 January [1]


Regular events
References
↑ singaporesojourn.blogspot.com, 14 January 2012
Ad blocker interference detected!
Wikia is a free-to-use site that makes money from advertising. We have a modified experience for viewers using ad blockers

Wikia is not accessible if you've made further modifications. Remove the custom ad blocker rule(s) and the page will load as expected.