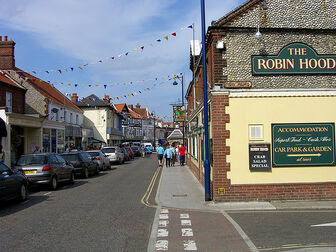 Sheringham is a seaside town (population c.7,100) in Norfolk, England, located west of Cromer.
Sheringham today has a thriving town centre centred around a traditional high street which has a wide range of privately-owned shops. On Saturdays throughout the year there is a popular market located in the car park adjacent to the railway station which attracts large crowds to the town even out of the holiday season. The town also has a good selection of specialist shops such as second-hand books, antiques and bric-a-brac, fishing tackle and bait, a model shop plus arts and craft shops. The Sheringham Little Theatre has a wide range of productions on throughout the year including a well-established summer repertory season running from July to September, and a popular pantomime at Christmas; in the foyer is an coffee shop and there is nearly always a display of art, very often by local artists. There is a good selection of food outlets and some pubs, restaurants, and a youth hostel.
2010
2008
Topic links
Edit
The headings in this section provide links to some of the topics in the Ideas Bank. Click on the Ideas Bank link, or the category listing to see a full list of topics.
References
↑ Campaign to Protect Rural England, 4 March 2010
↑ Campaign to Protect Rural England, September 9
↑ Campaign to Protect Rural England, November 22
Ad blocker interference detected!
Wikia is a free-to-use site that makes money from advertising. We have a modified experience for viewers using ad blockers

Wikia is not accessible if you've made further modifications. Remove the custom ad blocker rule(s) and the page will load as expected.