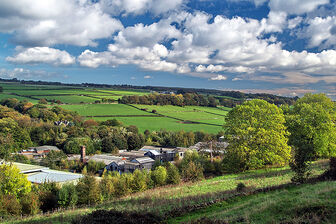 The headings in this article provide links to some of the topics in the Ideas Bank. Click on the Ideas Bank link, or the category listing to see a full list of topics.


Articles
Edit

Wanted pages and external links
Energy
Sheffield has a District Energy system which exploits the city's domestic waste, by Incinerating it and converting the energy from it to electricity. It also provides hot water, which is distributed through over 25 miles (40 km) of pipes under the city, via two networks. These networks supply heat and hot water for many buildings throughout the city. These include not only cinemas, hospitals, shops, and offices but also universities (Sheffield Hallam University and the University of Sheffield), residential properties. Energy generated in a waste plant produces 36 MW of thermal energy and up to 6.8 MW electrical energy from 115,000 tonnes of waste. It is claimed[39] that for every 100,000 MWh of energy supplied by district energy 31,000 tonnes of carbon dioxide is displaced and that for every 100,000 MWh of useful energy delivered 154,000 MWh of fossil fuel energy is displaced.
Sheffield is formally twinned with Anshan in China, Bochum in Germany, Donetsk in Ukraine, and Esteli in Nicaragua. There are more informal links with Kawasaki in Japan, Kitwe in Zambia, and Pittsburgh in the United States. Sheffield has also had close links with Poland, since Polish ex-servicemen who had fought alongside British forces during the Second World War settled in the city.
Allotments information from Sheffield City Council
With an estimated total of over two million trees, Sheffield has more trees per person than any other city in Europe. It has over 170 woodlands (covering 10.91 sq mi/28.3 km2), 78 public parks (covering 7.07 sq mi/18.3 km2) and 10 public gardens. Added to the 52.0 square miles (134.7 km2) of national park and 4.20 square miles (10.9 km2) of water this means that 61% of the city is greenspace.
Sheffield also has a very wide variety of habitat, comparing favourably with any city in the United Kingdom: urban, parkland and woodland, agricultural and arable land, moors, meadows and freshwater-based habitats. Large parts of the city are designated as sites of special scientific interest including several urban areas.
The city is now changing rapidly as new projects aim to regenerate some of the more run-down parts of the city. One such project, the Heart of the City Project, has seen a number of public works in the city centre: the Peace Gardens were renovated in 1998, the Millennium Galleries opened in April 2001, the Winter Gardens were opened on 22 May 2003, and a public space to link these two areas, the Millennium Square, was opened in May 2006. Further developments included the remodelling of Sheaf Square in front of the recently refurbished railway station.
Ideas Bank - Climate change - Environmental wellbeing - Social wellbeing - Economic wellbeing - Transport and Planning - Local sustainability - Community involvement - Global connections - Personal options - Ideas Bank by place -

Village pump
SCA Wiki - Places, projects & networks - Ideas Bank - News - Diary - Resources - Community / Avoid adverts
Ad blocker interference detected!
Wikia is a free-to-use site that makes money from advertising. We have a modified experience for viewers using ad blockers

Wikia is not accessible if you've made further modifications. Remove the custom ad blocker rule(s) and the page will load as expected.