Action Ideas
Edit
Safer routes to school
Walking buses
School Travel Plans
Why it matters
(introductory para needed)
Random facts
Edit
The proportion of primary-aged children walking to school declined from 53 to 49 per cent, with an increase from 38 to 43 per cent in the numbers being driven to school. For secondary school pupils, the proportion travelling to school on foot and by car increased slightly while the proportion travelling by bus fell from 33 to 29 per cent. Source: Department for Transport - National Travel Survey: 2005. Transport 2000 press release
Related topics
Edit
thumb|500px|left

Tip: click the four arrow symbol, bottom right of each embedded video (where available) to view video full screen.

2011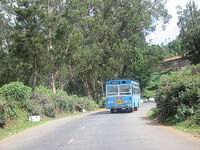 Three quarters of councils cutting school transport, 2 December 2011 [1]


2007
March 26 - Over 3000 schools receive a Walking to School grant, Living Streets

Wanted pages and external links

References
↑ bettertransport.org.uk, 2 December 2011
Ad blocker interference detected!
Wikia is a free-to-use site that makes money from advertising. We have a modified experience for viewers using ad blockers

Wikia is not accessible if you've made further modifications. Remove the custom ad blocker rule(s) and the page will load as expected.