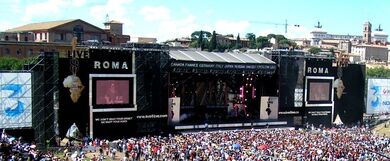 Rome (Italian: Roma) is the capital city of Italy and Lazio, and is Italy's largest and most populous city, with 2,705,317 residents, an urban area of 3,457,690 as well as a metropolitan area of about 4 million inhabitants spread over a 5,352 km² area.. It is located in the central-western portion of the Italian peninsula, on the Tiber river.
March 28 2009, 8.30 pm Earth Hour - Rome is a participating city
Topic links
Edit
The headings in this section provide links to some of the topics in the Ideas Bank. Click on the Ideas Bank link, or the category listing to see a full list of topics.

Wanted pages and external links
Public parks and nature reserves cover a large area in Rome, and the city has one of the largest areas of green space amongst European capitals. The most notable part of this green space is represented by the large number of villas and landscaped gardens created by the Italian aristocracy. While many villas were destroyed during the building boom of the late 19th century, a great many remain. The most notable of these are Villa Borghese, Villa Ada, and Villa Doria Pamphili.
Rome has a number of regional parks of much more recent origin including the Pineto Regional Park and the Appian Way Regional Park. There are also nature reserves at Marcigliana and at Tenuta di Castelporziano.
About 50 community-run green areas mapped: little urban gardens, play yards, edible gardens and areas for walking, resting, or simply talking. Citizens and associations acting together to reclaim the abandoned areas in Rome.
Ad blocker interference detected!
Wikia is a free-to-use site that makes money from advertising. We have a modified experience for viewers using ad blockers

Wikia is not accessible if you've made further modifications. Remove the custom ad blocker rule(s) and the page will load as expected.