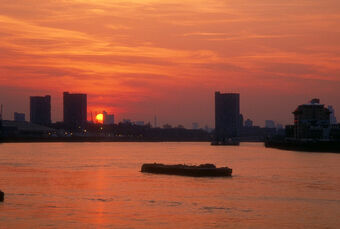 Articles
Edit
The area is currently going through a large regeneration project called Croydon Vision 2020 W which is predicted to attract more businesses and tourists to the area as well as backing Croydon's bid to become London's Third City.
The European Union has invested heavily in the regeneration of Peckham; partly funding the futuristic, award winning Peckham Library, a new town square and swathes of new housing to replace the North Peckham Estate. Throughout the area state funding is being provided to improve the housing stock and renovate the streets. This includes funding for public arts projects like the Tom Phillips mosaics on the wall of the Peckham Experiment restaurant and the South London Gallery. [1]
Elephant and Castle - At an international climate change summit in South Korea in May 2009, the Elephant and Castle regeneration scheme was named among 16 worldwide projects which will release less carbon dioxide than they use. At the summit former US President Bill Clinton praised the scheme as a global example for sustainable growth. [2] Elephant and Castle#Regeneration Project W
Related Wikipedia content
Edit

Wanted pages and external links
References
Ad blocker interference detected!
Wikia is a free-to-use site that makes money from advertising. We have a modified experience for viewers using ad blockers

Wikia is not accessible if you've made further modifications. Remove the custom ad blocker rule(s) and the page will load as expected.