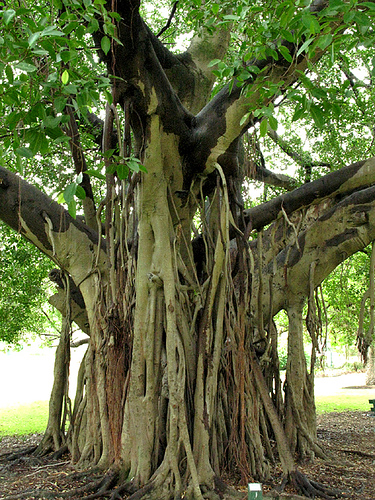 Queensland is a state of Australia which occupies the north-eastern section of the mainland continent. It is bordered by the Northern Territory to the west, South Australia to the south-west and New South Wales to the south. To the east, Queensland is bordered by the Coral Sea and Pacific Ocean. The state is Australia's second largest by area, following Western Australia, and the country's third most populous after New South Wales and Victoria.
The population is concentrated in South East Queensland, which includes the capital Brisbane, Logan City, Ipswich, Toowoomba, and the Gold and Sunshine Coasts. Other major regional centres include Cairns, Townsville, Mackay, Rockhampton, Bundaberg, Hervey Bay and Mount Isa.
Topic links
Edit
The headings in this section provide links to some of the topics in the Ideas Bank. Click on the Ideas Bank link, or the category listing to see a full list of topics.
Queensland has many places of natural beauty, including: the Sunshine Coast and the Gold Coast having some of the state's most popular beaches; the Bunya Mountains and the Great Dividing Range with numerous lookouts, waterfalls and picnic areas; Carnarvon Gorge; Whitsunday Islands and Hinchinbrook Island.
The state contains five World Heritage listed preservation areas: Australian Fossil Mammal Sites at Riversleigh in the Gulf Country, Central Eastern Rainforest Reserves, Fraser Island, Great Barrier Reef, and the Wet Tropics of Queensland.
Principal rail services are provided by Queensland Rail and Pacific National, predominantly along the coamajor ports including the Port of Brisbane and subsidiary ports at Gladstone and Townsville.
South East Queensland is governed by an integrated public transport system, TransLink, which provides bus, rail and ferry services. Regional bus and long-distance rail services are also provided throughout the State. Local bus services are also available in most regional centres.
Related topics
Edit

External links
Ad blocker interference detected!
Wikia is a free-to-use site that makes money from advertising. We have a modified experience for viewers using ad blockers

Wikia is not accessible if you've made further modifications. Remove the custom ad blocker rule(s) and the page will load as expected.