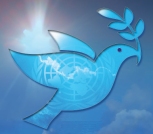 Peace is a term that most commonly refers to an absence of hostility, but which also represents a larger concept wherein there are healthy or newly-healed interpersonal or international relationships, safety in matters of social or economic welfare, the acknowledgment of equality and fairness in political relationships and, in world matters, peacetime; a state of being absent any war or conflict. Reflection on the nature of peace is also bound up with considerations of the causes for its absence or loss. Among these potential causes are: insecurity, social injustice, economic inequality, political and religious radicalism, and acute nationalism.
Peace and development
Edit
One concept or idea that often complements peace studies is development. Economic, cultural, and political development can supposedly take "underdeveloped" nations and peoples out of poverty, thus helping bring about a more peaceful world. As such, many international development agencies carry out projects funded by the governments of industrialized countries, mostly the western, designed to "modernize" poor countries.[1]
The concept of peace has been linked to the wide idea of development, assuming that development is not the classical pursuit of wealth.Script error Peaceful development can be a set of many different elements such as good governance, healthcare, education, gender equality, disaster preparedness, infrastructure, economics, rule of law, human rights, environment and other political issues. Script error The measuring of development uses not only GDP but also numerous measures such as:
Literacy rates
Per capita income
Maternal survival rate
HIV infection rates
Number of doctors per capita
and others
In this frame, the problem of peace fully involves the complex matter of human development, what explains the complexity of any peace-building processus.
"Peace is what happens when all peoples are free to develop themselves in the way they want, without having to fight for their rights." Bruno Picozzi [1]
Random facts
Edit

Wanted pages and external links
References
Ad blocker interference detected!
Wikia is a free-to-use site that makes money from advertising. We have a modified experience for viewers using ad blockers

Wikia is not accessible if you've made further modifications. Remove the custom ad blocker rule(s) and the page will load as expected.