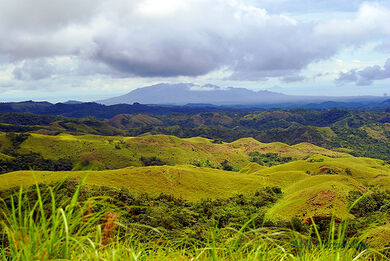 Panama, officially the Republic of Panama (Spanish: República de Panamá), is the southernmost country of both Central America and, in turn, North America. Situated on the isthmus connecting North and South America, it is bordered by Costa Rica to the northwest, Colombia to the southeast, the Caribbean Sea to the north and the Pacific Ocean to the south.
The capital is Panama City.
"Planting Empowerment". An initiative involving a small business in partnership with a community-based organization and an international agency is leveraging private capital to increase conservation and provide sustainable livelihood opportunities to the local population as the same time as improving natural resource conservation in fragile environmental areas. [1]
Topic links
Edit
The headings in this section provide links to some of the topics in the Ideas Bank. Click on the Ideas Bank link, or the category listing to see a full list of topics.
Waterways
Nearly 500 rivers lace Panama's rugged landscape. Mostly unnavigable, many originate as swift highland streams, meander in valleys, and form coastal deltas. However, the Río Chagres is a source of enormous hydroelectric power. The Kampia and Madden Lakes (also filled with water from the Río Chagres) provide hydroelectricity for the area of the former Canal Zone.
The Río Chepo, another source of hydroelectric power, is one of the more than 300 rivers emptying into the Pacific. These Pacific-oriented rivers are longer and slower running than those of the Caribbean side. Their basins are also more extensive. One of the longest is the Río Tuira which flows into the Golfo de San Miguel and is the nation's only river navigable by larger vessels.
Related topics
Edit
References
↑ United Nations Environment Programme, May 12, 2009
Ad blocker interference detected!
Wikia is a free-to-use site that makes money from advertising. We have a modified experience for viewers using ad blockers

Wikia is not accessible if you've made further modifications. Remove the custom ad blocker rule(s) and the page will load as expected.