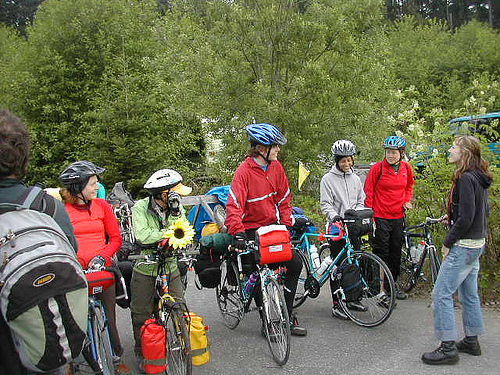 The Otesha Project is a youth led charitable organization that mobilizes and equips Canadians to create local and global change through individual and collective choices. Our vision is to see sustainable consumption and lifestyle choices enter the mainstream of Canadian culture.
The project is founded on the idea that every individual has the power to make choices that affect that world. The idea that step by step, choice by choice, we can build a more sustainable future by building community, making conscious lifestyle choices and reducing consumption.
The Otesha Project's education programs use theatre, experiential activities, and storytelling to engage a wide range of audiences. To date, the project has reached more than 100,000 audience members across Canada and trained over 300 sustainability advocates.
External links
Edit

Places, projects and networks -

Portal - UK - USA - Australia - New Zealand - Europe - North America - South America - Oceania - Asia - Africa / Campaigns - Building networks -

Village pump
SCA Wiki - Places, projects & networks - Ideas Bank - News - Diary - Resources - Community / Avoid adverts
This article is a stub. Someone helped by starting it, but it doesn't have much content yet. You are invited to add content.

Thank you!
Ad blocker interference detected!
Wikia is a free-to-use site that makes money from advertising. We have a modified experience for viewers using ad blockers

Wikia is not accessible if you've made further modifications. Remove the custom ad blocker rule(s) and the page will load as expected.