New Local Area Agreements (LAAs) to go "further by giving local government more freedom to put greater energy, focus and funding on the issues that matter most to their communities." September 18 [3] Negotiation of new LAAs will take place from autumn 2007 to spring 2008 in all areas. They will last 3 years and be reviewed, or where necessary revised, annually. According to the government during the first round of LAAs, Newcastle, Middlesbrough, and Thurrock have made it a priority to cut their area's carbon footprint, and Bath and North East Somerset have enlisted the public in everything from protecting the area's biodiversity to designing playgrounds.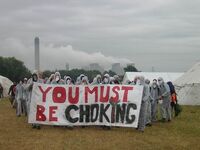 BBC abandons plan to run Planet Relief, a TV special on climate change. [9] Friends of the Earth's Tony Juniper: "This is a very disappointing decision considering the huge potential for the BBC in helping us more quickly make the shift toward a low carbon society. The science of climate change is very clear and if approached in the right way taking up this very serious issue would not compromise the BBC's impartiality. After all, the corporation has worked in a similar manner to that intended for Planet Relief on child welfare, international development and wildlife protection. We urge the BBC to press ahead with a major feature on climate change and to think through how best it can serve its public interest purpose by encouraging greener behaviour". September 5. topic
News UK - Index - Headlines - Comment - feeds -

Village pump
SCA Wiki - Places, projects & networks - Ideas Bank - News - Diary - Resources - Community / Avoid adverts
References
Ad blocker interference detected!
Wikia is a free-to-use site that makes money from advertising. We have a modified experience for viewers using ad blockers

Wikia is not accessible if you've made further modifications. Remove the custom ad blocker rule(s) and the page will load as expected.