Nature's Calendar, or The UK Phenology Network (UKPN), is a website run by the Woodland Trust and the Centre for Ecology and Hydrology. Members of the public can enter sightings online which help in studies of the effects of climate change on wildlife. The project was started in 1998. The network now has more than 50,000 registered recorders. [1]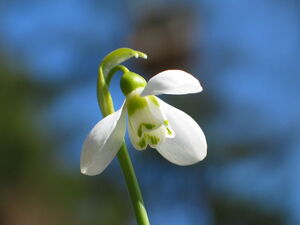 Ten years on, Nature's Calendar now includes up to 110 species, and a variety of events: leafing of trees; snowdrops; swallows; cuckoos; wood anemones; brimstone butterflies; rooks building nests and frogs croaking.
Spring 2007
Edit
beech came in to leaf an average of 12 days earlier than the norm,
snowdrops were 14 days earlier,
swallows 6 days,
cuckoos 5 days,
frogspawn 14 days,
wood anemones 10 days,
brimstone butterflies 18 days and
rook nesting was 9 days earlier on average.
For insects, amphibians, and plants 2007 was the earliest recorded spring since records began. Insects were 23.1 days earlier than the norm and as much as 4 days earlier than in recent warm years. Amphibians were 14.5 days earlier and a full 2 days earlier than recent warm years. Flowering was 16.5 days earlier than the norm and a full 3.5 days earlier than recent warm years.
Migrant birds arrived 5.3 days earlier than the norm and about one day earlier than in recent warm years. Resident birds were first seen in breeding activity 8.7 days earlier than the norm, but there have been earlier years in recent warm years. For trees, average budburst was 10.6 days earlier and the first leaf average was 12.7 days earlier than the norm.
Full spring index
Edit
The UKPN full spring index is used to see how spring timings compare to average springs, and is based on the annual mean observation dates for four events. These events were chosen as between them they include both earlier and later spring events, have long-term datasets from a large number of locations and include plants, invertebrates and vertebrates. This index demonstrates a significant advancement of spring. The pre-1948 average date of all four events is 5th May; the post-1998 average is 28th April. The average March/April temperature for these two periods was 6.8°C and 7.9°C respectively, showing an advancement of spring by 5.8 days per 1°C rise in March/April temperature.
References
Edit
↑ The Woodland Trust, January 22 2008
External links
Edit

Ideas Bank - Climate change - Environmental wellbeing - Social wellbeing - Economic wellbeing - Transport and Planning - Local sustainability - Community involvement - Global connections - Personal options - Ideas Bank by place -

Village pump
SCA Wiki - Places, projects & networks - Ideas Bank - News - Diary - Resources - Community / Avoid adverts
This article is a stub. Someone helped by starting it, but it doesn't have much content yet. You are invited to add content.

Thank you!
Ad blocker interference detected!
Wikia is a free-to-use site that makes money from advertising. We have a modified experience for viewers using ad blockers

Wikia is not accessible if you've made further modifications. Remove the custom ad blocker rule(s) and the page will load as expected.