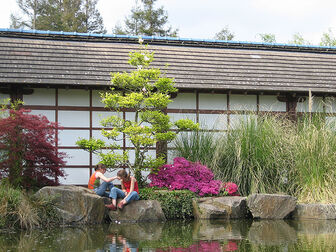 Nantes (Breton: Naoned, Gallo: Naunnt) is a city in western France, located on the Loire River, 50 km (31 mi) from the Atlantic coast.[1] The city is the 6th largest in France, while its metropolitan area ranks 8th with over 800,000 inhabitants.
Nantes is the capital city of the Pays de la Loire region and Loire-Atlantique département. It is also the major city of the historic province of Brittany, and culturally remains strongly identified with it.
In 2004, the Time magazine described Nantes as "the most liveable city in Europe".
October 2010
Vitoria-Gasteiz and Nantes to be next European Green Capitals, 22 October [1]

Nantes, France's sixth largest city with a population of 285 000, has successfully linked its green and blue urban areas, integrating urban challenges with a location on two major rivers (the Loire and the Erdre), through a sustainable water management programme. Several Natura 2000 and other nature conservation areas border the city, and conservation of the flora and fauna are a key concern for its population.
Nantes has a long established integrated and sustainable transport policy with a focus on public transport and cycling and was the first French city to successfully reintroduce electric trams. Its ambitious transport policy has reduced air pollution, and a new climate plan aims to cut CO2 emissions by a quarter by 2020. One novel initiative for citizens' health is an allergy risk evaluation system, in the form of an experimental "pollen watch garden".
Places, projects and networks -

Portal - UK - USA - Australia - New Zealand - Europe - North America - South America - Oceania - Asia - Africa / Campaigns - Building networks -

Village pump
SCA Wiki - Places, projects & networks - Ideas Bank - News - Diary - Resources - Community / Avoid adverts
References
↑ ec.europa.eu, 22 October 2010
Ad blocker interference detected!
Wikia is a free-to-use site that makes money from advertising. We have a modified experience for viewers using ad blockers

Wikia is not accessible if you've made further modifications. Remove the custom ad blocker rule(s) and the page will load as expected.