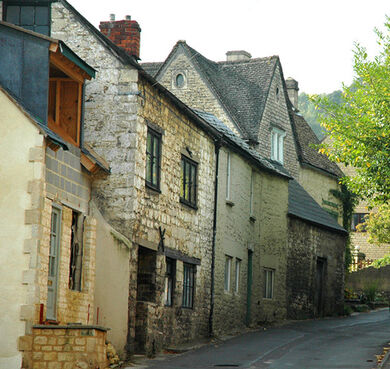 Nailsworth is a town in Gloucestershire, England, lying in one of the Stroud Valleys in the Cotswolds. It has a population of around 6,600 people (2005). The town is visited in the summer by walkers, and the town centre includes restaurants and cafes, two bakers, a delicatessen with a fishmonger, two hardware stores, two butchers, craft shops, bookshops, art galleries and a gardening shop.
Topic links
Edit
The headings in this section provide links to some of the topics in the Ideas Bank. Click on the Ideas Bank link, or the category listing to see a full list of topics.
A cycle path follows the route of an old railway line linking the town to Woodchester and Stroud.
Nailsworth is a Fairtrade Town.
Nailsworth holds a Farmers Market every fourth Saturday in the month.
Brewing returned to the town in 2006 in the form of a micro-brewery Nailsworth Brewery with an associated pub above, The Village Inn.
Every Spring, the town hosts the Nailsworth Festival, during which local artists exhibit in the windows of all the high street shops, there are numerous cultural and street events, and a free music festival ("Nailstock") takes place on one of the playing fields in the town, showcasing local bands.
Nailsworth is part of the local government district of Stroud, an area in which much of the landscape is designated as an Area of Outstanding Natural Beauty. The esteemed Cotswold Way walk leads through the area.
Related Wikipedia content
Edit
External links
References
Ad blocker interference detected!
Wikia is a free-to-use site that makes money from advertising. We have a modified experience for viewers using ad blockers

Wikia is not accessible if you've made further modifications. Remove the custom ad blocker rule(s) and the page will load as expected.