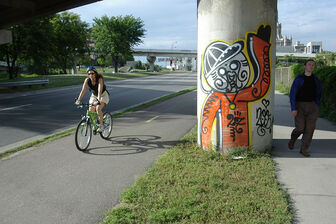 Minneapolis, nicknamed "City of Lakes" and the "Mill City," is the county seat of Hennepin County, the largest city in the U.S. state of Minnesota, and the 48th largest in the United States. Minneapolis lies on both banks of the Mississippi River, just north of the river's confluence with the Minnesota River, and adjoins Saint Paul, the state's capital. Known as the Twin Cities, Minneapolis-Saint Paul is the 16th-largest metropolitan area in the U.S., with 3.5 million residents. The 2010 Census had the city's population as 382,578.
The city is abundantly rich in water with over twenty lakes and wetlands, the Mississippi river, creeks and waterfalls, many connected by parkways in the Chain of Lakes and the Grand Rounds Scenic Byway. It was once the world's flour milling capital and a hub for timber, and today is the primary business center between Chicago and Seattle. It has cultural organizations that draw creative people and audiences to the city for theater, visual art, writing, and music. Minneapolis' community's diverse population has a long tradition of charitable support through progressive public social programs, as well as private and corporate philanthropy.
thumb|500px|left
Topic links
Edit
The headings in this section provide links to some of the topics in the Ideas Bank. Click on the Ideas Bank link, or the category listing to see a full list of topics.

External links
Ad blocker interference detected!
Wikia is a free-to-use site that makes money from advertising. We have a modified experience for viewers using ad blockers

Wikia is not accessible if you've made further modifications. Remove the custom ad blocker rule(s) and the page will load as expected.