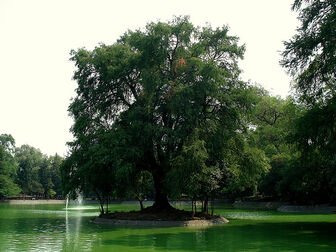 The United Mexican States (Spanish: Estados Unidos Mexicanos), or simply Mexico (Spanish: México), is a country located in southern North America, bounded on the north by the USA; on the south by Central America with Guatemala and Belize; on the west by the Pacific Ocean; and on the East by the Gulf of Mexico, Pacific Ocean and the Caribbean Sea. The capital, Mexico City is one of the largest cities on Earth.
Covering almost 2 million square kilometres, Mexico is the 6th largest country in the Americas by total area and 15th largest in the world. With a population of about 108 million, it is the 11th most populous country and the most populous Spanish-speaking country in the world.
Wanted pages and external links
[[Video:Via RecreActiva|thumb|500px|left|Via RecreActiva,
Guadalajara
]]

Tip: click the four arrow symbol, bottom right of each embedded video (where available) to view video full screen.

See separate article News Mexico
Topic links
Edit
The headings in this section provide links to some of the topics in the Ideas Bank. Click on the Ideas Bank link, or the category listing to see a full list of topics.
Mexico is one of the most important countries in biodiversity, in the case of fauna, it has the first place in reptiles, there are 717 species of reptiles, second in mammals with 502 species, fourth in amphibians with 290 species. In the case of the flora there are 26 000 species of vascular plants. Mexico has aproxximately 10% of all the species known on the earth.
Related topics
Edit

External links
References
Ad blocker interference detected!
Wikia is a free-to-use site that makes money from advertising. We have a modified experience for viewers using ad blockers

Wikia is not accessible if you've made further modifications. Remove the custom ad blocker rule(s) and the page will load as expected.