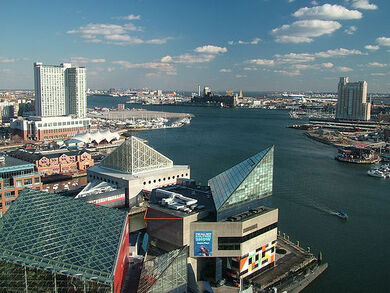 Maryland is a state located in the Mid Atlantic region of the United States, bordering Virginia, West Virginia and the District of Columbia to the south and west, Pennsylvania to the north, and Delaware to the east.
Environmental awareness
Edit
Maryland is one of the most environmentally friendly states in the country. Forbes.com rated Maryland as the fifth "Greenest" state in the country behind four of the Pacific States and Vermont. Maryland ranks 40th in total energy consumption nationwide, and it managed less toxic waste per capita than all but six states in 2005.[1] In April 2007 Maryland joined the Regional Greenhouse Gas Initiative (RGGI)—a regional initiative formed by all of the Northeastern states, Washington D.C., and three Canadian provinces to reduce greenhouse gas emissions.
Topic links
Edit
The headings in this section provide links to some of the topics in the Ideas Bank. Click on the Ideas Bank link, or the category listing to see a full list of topics.
Tip: click on the category links to find more examples throughout this wiki: USA, global / Guidelines for listings
Baltimore 311, enables real-time collaboration with citizens, "deputizing" mobile users to become the city's eyes and ears. Citizens report potholes, graffiti, and other issues from anywhere in the city using their mobile phone. / Community involvement USA
References
Ad blocker interference detected!
Wikia is a free-to-use site that makes money from advertising. We have a modified experience for viewers using ad blockers

Wikia is not accessible if you've made further modifications. Remove the custom ad blocker rule(s) and the page will load as expected.