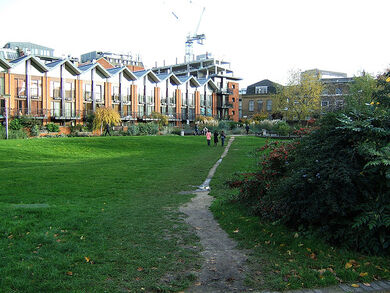 The London Borough of Lambeth is a London borough in South London, England and forms part of Inner London.
Projects and networks by topic please see London Borough of Lambeth links
2011
UK's first electronic local currency now live! September 30 [1] topic


Lambeth launches cooperative council plans, January 28. The plans involve 'community-led commissioning', and a Lambeth Cooperative Incentive Scheme. "This will take the form of credits that people can use for discounts in local shops, for local leisure or sports facilities, or as a council-tax discount. To make sure the money is spent locally, any credits will be awarded in a new local electronic currency, building on the success of the Brixton Pound that already operates in the borough and is the UK's only local currency in an urban area." [2] topic
September 2009
17 The Brixton Pound official launch, Lambeth Town Hall
August 2008
thumb|500px|left
References
↑ brixtonpound.org, September 30, 2011
Ad blocker interference detected!
Wikia is a free-to-use site that makes money from advertising. We have a modified experience for viewers using ad blockers

Wikia is not accessible if you've made further modifications. Remove the custom ad blocker rule(s) and the page will load as expected.