---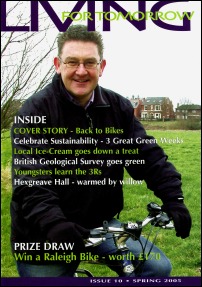 A full colour magazine about sustainability in Nottinghamshire, first published in 2002 and appearing about 3 times a year.

Content is mostly features about organisations and individuals who are taking action in some way, usually on environmental issues, in an attractive layout with lots of photos and side panels with sources of further information. It's 24 pages long and has a print run of 14,000, going out by direct mail and through outlets like dentists and libraries across Nottinghamshire.

It's produced by Nottingham Green Partnership and Nottinghamshire Local Agenda 21 Forum, with funding from these and various other bodies. Contact editor@livingfortomorrow.org.uk.

Some sample articles from issue 10:
Local ice-cream goes down a treat (a Notts farm making its own ice-cream using locally sourced ingredients)
British Geological Survey goes green
Youngsters learn the 3 Rs - reduce, re-use, recycle - through Notts School Waste Action Club
Metals recycling
Back to Bikes - the Ridewise cycle training project helping adults to become confident cyclists
Hexgreave Hall - converted to a green, high-tech business centre running on wood heat
Ad blocker interference detected!
Wikia is a free-to-use site that makes money from advertising. We have a modified experience for viewers using ad blockers

Wikia is not accessible if you've made further modifications. Remove the custom ad blocker rule(s) and the page will load as expected.