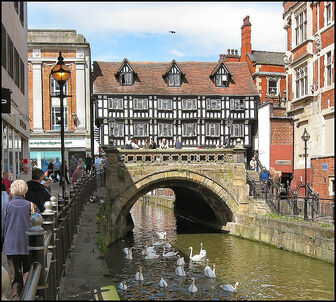 Lincolnshire is a county in the east of England. It borders Norfolk, Cambridgeshire, Rutland, Leicestershire, Nottinghamshire, South Yorkshire, the East Riding of Yorkshire. It also borders Northamptonshire for just 19 metres, England's shortest county boundary. The county town is the city of Lincoln, where the county council has its headquarters.
The ceremonial county of Lincolnshire is composed of the non-metropolitan county of Lincolnshire and the area covered by the unitary authorities of North Lincolnshire and North-East Lincolnshire. The county is the second largest of the English counties and one that is predominantly agricultural in land-use. Although the largest part of the ceremonial county is in the East Midlands, North Lincolnshire and North East Lincolnshire are in Yorkshire and the Humber.
For the purposes of a general geographical classification the county can be broken down into a number of sub-regions including: the Lincolnshire Fens (south Lincolnshire), north Lincolnshire version of the Fens are the Carrs, the Lincolnshire Wolds, and the industrial Humber Estuary and North Sea coast around Grimsby and Scunthorpe.
Manby and Strubby
Shortlisted location for an Eco town. 5,000 homes put forward by East Lindsey District Council on two sites, with large elements of brownfield land including a former RAF base. The proposal complements the strategic plan for the phased relocation of communities on Lincolnshire coast because of high flood risk, and could include 1,500 affordable homes in an area of very high affordability pressure. Manby on Wikipedia. Promoters have subsequently pulled out, July 24 [1]
Topic links
Edit
The headings in this section provide links to some of the topics in the Ideas Bank. Click on the Ideas Bank link, or the category listing to see a full list of topics.
A Sustrans cycle route runs from Lincoln to Boston in the South of the county (Sustrans Lincolnshire).
Transition towns East Midlands
Related topics
Edit

External links
Places, projects and networks -

Portal - UK - USA - Australia - New Zealand - Europe - North America - South America - Oceania - Asia - Africa / Campaigns - Building networks -

Village pump
SCA Wiki - Places, projects & networks - Ideas Bank - News - Diary - Resources - Community / Avoid adverts
References
↑ Communities and Local Government, July 24
↑ partridgej's blog, February 1, 2011
Ad blocker interference detected!
Wikia is a free-to-use site that makes money from advertising. We have a modified experience for viewers using ad blockers

Wikia is not accessible if you've made further modifications. Remove the custom ad blocker rule(s) and the page will load as expected.