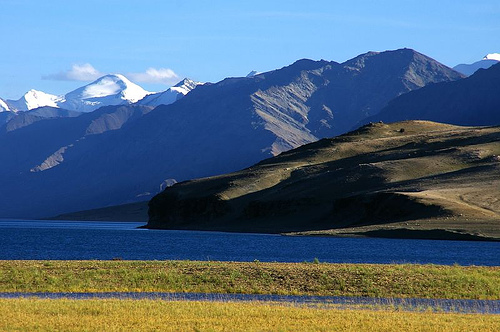 Ladakh ("land of high passes") is a region of Jammu and Kashmir, the northernmost state of the Republic of India. It lies between the Kunlun mountain range in the north and the main Great Himalayas to the south, inhabited by people of Indo-Aryan and Tibetan descent. It is one of the most sparsely populated regions in Kashmir.
The largest town in Ladakh is Leh.
There are many [NGO s][1] which are actively working to improve the life in Ladakh like [LEDeG][2], [Leho][3], [Leh Nutrition project][4], Women's alliance etc. [LEDeG][5] has been working actively since 1971 by installing Hydraulic rams to improve the water supply in the region. It has also been successful in setting up hydro power projects in the otherwise energy starved region.
External links
Edit

Places, projects and networks -

Portal - UK - USA - Australia - New Zealand - Europe - North America - South America - Oceania - Asia - Africa / Campaigns - Building networks -

Village pump
SCA Wiki - Places, projects & networks - Ideas Bank - News - Diary - Resources - Community / Avoid adverts
This article is a stub. Someone helped by starting it, but it doesn't have much content yet. You are invited to add content.

Thank you!
Ad blocker interference detected!
Wikia is a free-to-use site that makes money from advertising. We have a modified experience for viewers using ad blockers

Wikia is not accessible if you've made further modifications. Remove the custom ad blocker rule(s) and the page will load as expected.