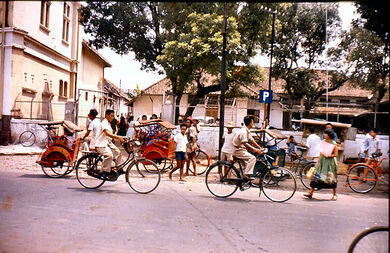 Jakarta is the capital and largest city of Indonesia. It also has a greater population than any other city in Southeast Asia. Located on the northwest coast of Java, it has an area of 661.52 square kilometres (255.41 sq mi) and a population of 8,489,910. Jakarta is the twelfth-largest city in the world; the metropolitan area, called Jabodetabek, is the sixth-largest in the world.
Problems
Edit
Like many big cities in developing countries, Jakarta suffers from major urbanization challenges. The population has risen sharply from 1.2 million in 1960 to 8.8 million in 2004, counting only its legal residents. The population of greater Jakarta is estimated at 23 million, making it the second largest urban area in the world.
The rapid population growth has outgrown the government's ability to provide basic needs for its residents. As the third biggest economy in Indonesia,Jakarta has attracted a large number of visitors. The population during weekdays is almost double that of weekends, due to the influx of residents residing in other areas of Jabodetabek. Because of government's inability to provide adequate transportation for its large population, Jakarta also suffers from severe traffic jams that occur almost every day. Air pollution and waste management are also severe problems
Topic links
Edit
The headings in this section provide links to some of the topics in the Ideas Bank. Click on the Ideas Bank link, or the category listing to see a full list of topics.
During the wet season, Jakarta suffers from flooding due to clogged sewage pipes and waterways, deforestation near rapidly urbanizing Bogor and Depok, and the fact that 40% of it is below sea level. Major floods occurred in 1996 when 5,000 hectares of land were flooded and 2007. Approximately 70% of Jakarta's total area was flooded with water up to four meters deep in parts of city.
Jakarta has sister relationships with a number of towns and regions worldwide:
Related topics
Edit

External links
Ad blocker interference detected!
Wikia is a free-to-use site that makes money from advertising. We have a modified experience for viewers using ad blockers

Wikia is not accessible if you've made further modifications. Remove the custom ad blocker rule(s) and the page will load as expected.