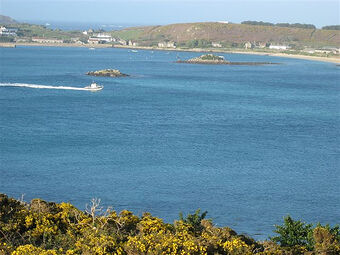 The Isles of Scilly (Cornish: Ynysek Syllan) form an archipelago off the southwestern tip of the Cornish peninsula of the British Isles. Traditionally administered as part of the county of Cornwall, the islands have had a unitary authority council since 1889. This council is currently known as the Council of the Isles of Scilly.
The islands are designated an Area of Outstanding Natural Beauty.
6 Energy Saving Day (E-Day), live measurements of a whole community's collective effort to cut their electricity use. Over a 24-hour period residents on the Isles of Scilly will switch off electrical items which do not need to be on in their homes, schools and workplaces, and the reduction in electricity use will be played out in real-time across the internet (www.e-day.org.uk) and compared with the rest of the UK.
Topic links
Edit
The headings in this section provide links to some of the topics in the Ideas Bank. Click on the Ideas Bank link, or the category listing to see a full list of topics.
External links
Edit

Places, projects and networks -

Portal - UK - USA - Australia - New Zealand - Europe - North America - South America - Oceania - Asia - Africa / Campaigns - Building networks -

Village pump
SCA Wiki - Places, projects & networks - Ideas Bank - News - Diary - Resources - Community / Avoid adverts
This article is a stub. Someone helped by starting it, but it doesn't have much content yet. You are invited to add content.

Thank you!
References
Ad blocker interference detected!
Wikia is a free-to-use site that makes money from advertising. We have a modified experience for viewers using ad blockers

Wikia is not accessible if you've made further modifications. Remove the custom ad blocker rule(s) and the page will load as expected.