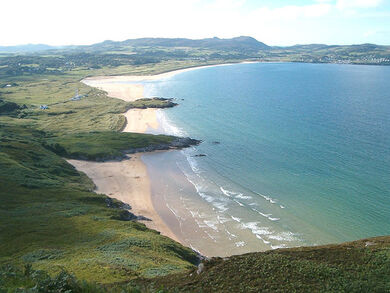 Ireland is the third largest island in Europe, and the twentieth-largest island in the world. It lies to the north-west of continental Europe and is surrounded by hundreds of islands and islets. To the east of Ireland, separated by the Irish Sea, is the island of Great Britain. Politically, the state Ireland (described as the Republic of Ireland in cases of ambiguity) covers five-sixths of the island, with Northern Ireland, part of the United Kingdom, covering the remainder in the north-east.
The population of the island is slightly over 6 million (2007), with 4.4 million in the Republic of Ireland (1.7 million in Greater Dublin and an estimated 1.75 million in Northern Ireland (800,000 in Greater Belfast).
Projects and networks by topic please see Ireland links
Wanted pages and external links
Ad blocker interference detected!
Wikia is a free-to-use site that makes money from advertising. We have a modified experience for viewers using ad blockers

Wikia is not accessible if you've made further modifications. Remove the custom ad blocker rule(s) and the page will load as expected.