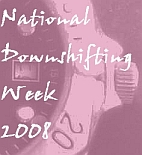 "Amid a frenzy of conspicuous consumption, an inconspicuous revolution has been stirring. A growing number of people are seeking a way of life that is more satisfying and sustainable. This quiet revolution is being called by many names, including voluntary simplicity and compassionate living. But whatever its name, its hallmark is a new common sense - namely, that life is too deep and consumerism is too shallow to provide soulful satisfaction." Duane Elgin
April
What's it about?
Edit
National Downshifting Week encourages participants to slow down their pace and lean towards the green. It helps them live a more sustainable life and get a better work / life balance.

It's a way of focusing attention on downshifting and inspiring more of us toward simpler, happier lives. National Downshifting week is the brainchild of British writer and broadcaster on sustainable living, Tracey Smith, who also 'soft-launched' the awareness campaign in America in 2006. Following its success, in 2008 Smith re-named the awareness campaign 'InterNational Downshifting Week', to allow inclusion from participants in other countries who sought clarification that they were also 'allowed' to take part.

National Downshifting Week is about encouraging people to dip their toes into a lifestyle with a slower pace, and appreciating downshifting's many positive advantages. It's about how you balance your time between your family or loved ones and work. Finding ways to appreciate more with less. A better quality of life - a way of life that is more satisfying and sustainable. Deeper relationships. Choosing and becoming comfortable with life at your own pace.

It's important to realise that downshifting doesn't need to be anything abrupt or extreme, "Start gently." as Tracey says. Far better to take it easy, slow down and offer yourself the luxury of time to think it all through. "Cooking from fresh just as an example, something many of us have become rather disconnected from, needn't be at all difficult."

Downshifting also tends to help in re-establishing a connection with, and feeling for the environment. When you slow down and begin to practise developing your own well-being it's not surprising that you also develop increased sensitivity to environmental and even global well-being.

Downshifting as a topic isn't new. There are many sources of information and inspiration about downshifting on the internet or via your local library - Tracey's National Downshifting Week website offers some pointers. The website also includes a whole range of practical ideas for Individuals, Companies, and Children and Schools.
Volunteering
Edit
Tracey Smith broadcasts 'Slow Down and Green Up' on the Hospital Radio Station 'Apple AM' at Musgrove Park, Taunton. Listen via the Internet on www.AppleAM.com.
She is also an active Trustee for NACOA, www.NACOA.ORG.UK, the National Association for Children of Alcoholics in the UK.

External links
The National Downshifting Week website can be found at www.downshiftingweek.com
For further downshifting ideas from Tracey Smith, read the Green Family column at Sustained Magazine.

Notes
↑ Note concerning the use and reuse of images The logo and promtional picture above are copyright but are included here with permission. The copyright holder has also given permission for subsequent reuse in the context of Downshifting and Sustainable Living.
Ad blocker interference detected!
Wikia is a free-to-use site that makes money from advertising. We have a modified experience for viewers using ad blockers

Wikia is not accessible if you've made further modifications. Remove the custom ad blocker rule(s) and the page will load as expected.