I Count is a campaign to stop climate chaos, launching in the UK at the beginning of October 2006.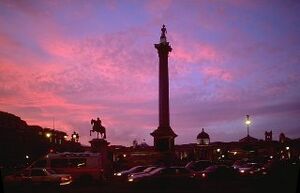 The Stop Climate Chaos coalition are to stage 'i count', a huge event in London's Trafalgar Square, on Saturday 4th November, 2006 at 1pm. Thousands of people who care about climate change are expected to turn out, be counted and demand politicians take action.
People will be travelling to the event from across the UK in ingenious low-carbon ways and welcomed to the Square by comic compères introducing addresses from high-profile supporters and musicians.
Ashok Sinha, Director of Stop Climate Chaos: "Climate change is affecting us all, now. We urge everyone who is concerned to join us on Saturday 4th November and 'be counted'. Whether you're a gardener suffering with unpredictable weather, a parent worried for your child's future, someone concerned about drought and famine in Africa or a nature-lover watching our native species disappear, I Count is an opportunity for us all to come together and make our voices heard."
Everyone who signs up to the campaign via text message or by logging onto the campaign website (www.icount.org.uk) will be counted 'virtually' on the day. A live counter will clock up those in the Square and those who care but couldn't come.
The I Count event precedes the next round of climate change negotiations in Nairobi, Kenya, that start on November 6 2006. The UK Government will be at the table, and the I Count campaign is calling on them to provide:
Action for justice:To provide all necessary assistance to developing countries to both adapt to climate change and, in the longer term, get access to sufficient clean energy to meet their developmental needs.
Action internationally:Make it a top priority to ensure that global greenhouse gas emissions are irreversibly declining by 2015.
Action in the UK:The first step the government can take towards delivering annual reductions in greenhouse gas emissions of 3% (through the creation of a comprehensive Carbon Budget), as well as providing proper support for developing countries, is to announce in the forthcoming Queen's Speech that it will introduce a new Bill to pave the way for the legislation necessary to do this.
Related topics
Edit
External link
Edit
Reference
Edit

Places, projects and networks -

Portal - UK - USA - Australia - New Zealand - Europe - North America - South America - Oceania - Asia - Africa / Campaigns - Building networks -

Village pump
SCA Wiki - Places, projects & networks - Ideas Bank - News - Diary - Resources - Community / Avoid adverts
Ad blocker interference detected!
Wikia is a free-to-use site that makes money from advertising. We have a modified experience for viewers using ad blockers

Wikia is not accessible if you've made further modifications. Remove the custom ad blocker rule(s) and the page will load as expected.