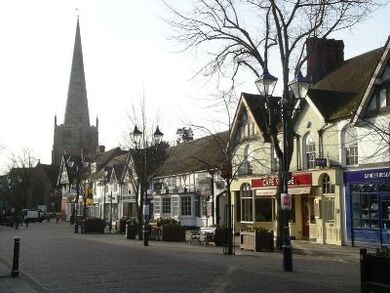 "High Street UK 2015" is a report from the All Party Parliamentary Group on Small Shops launched on Wednesday 15th February 2006.
The group is concerned that if smaller stores are squeezed out, there will be social, economic and environmental consequences felt by local communities: "The erosion of small shops is viewed as the erosion of the social glue that binds communities together."
Report Recommendations
Edit
The MPs recommendations include:
An independent retail regulator
A moratorium on any further mergers and takeovers
A stronger code of practice to protect supermarkets suppliers
Greater powers for local communities in planning and more explicit protection for diversity and vitality of local retailing
Revise the "two market" ruling which has allowed big supermarkets to take over convenience store chains with no investigation
Companies to be made accountable for their damage to the environment
Comment on the report
Edit
Friends of the Earth have welcomed tthe report and urge the Government to follow the Group's recommendations. Friends of the Earth's Supermarkets campaigner Sandra Bell: "The all party group of MPs has given clear backing to our calls for urgent action to rein in the biggest supermarkets. The Government and the Office of Fair Trading appear increasingly isolated in their view that market dominance is good for consumers. This report goes a long way towards finding solutions to protect the many small shops which offer genuine choice, good value, a personal service and a lifeline for local communities. They must now be taken forward by the competition authorities as part of an urgent investigation into the grocery market"
nef (the new economics foundation) have also welcomed the report: "The intransigence of government and the regulators have left Britain on the verge of becoming a one-supermarket state. We now need urgent action to implement the groups' recommendations so that we can begin to move back towards an open market place in which the small suppliers, farmers and stores who contribute so much to communities and economies across the UK can survive"
Related topics
Edit

References
Ad blocker interference detected!
Wikia is a free-to-use site that makes money from advertising. We have a modified experience for viewers using ad blockers

Wikia is not accessible if you've made further modifications. Remove the custom ad blocker rule(s) and the page will load as expected.