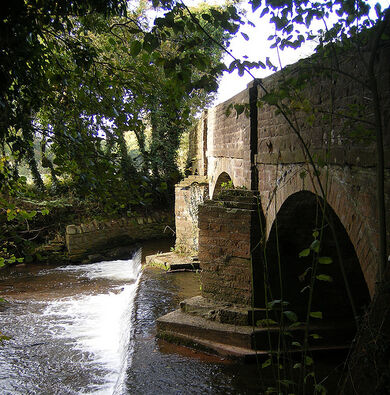 Herefordshire is a historic and ceremonial county in the West Midlands region of England. It also forms a unitary district known as the County of Herefordshire. It borders the English ceremonial counties of Shropshire to the north, Worcestershire to the east, Gloucestershire to the southeast, and the Welsh preserved counties of Gwent to the south west and Powys to the west. Hereford is a cathedral city and is the county town; with a population of approximately 50,000 inhabitants it is also the largest settlement.
The county is one of the most rural and least densely populated in England, with a population density of 82/km² (212/sq mi). The land use is predominantly agricultural and the county is well known for its fruit and cider production, and the world famous Hereford cattle breed.
Topic links
Edit
The headings in this section provide links to some of the topics in the Ideas Bank. Click on the Ideas Bank link, or the category listing to see a full list of topics.
Waterways in the United Kingdom
Historically, the rivers Wye and Lugg were navigable but the wide seasonal variations in water levels mean that few craft larger than canoes and coracles are now used. There are canoe centres at The Boat House, Glasbury-on-Wye, the Hereford Youth Service and Kerne Bridge Ross-on-Wye, as well as a rowing club in Hereford.
The early 19th century saw the construction of two canals, The Herefordshire and Gloucestershire Canal and The Leominster & Stourport Canal but these were never successful and there are now few remains to be seen. The Herefordshire and Gloucestershire Canal is currently undergoing a restoration project, which might include the construction of a new canal basin in Hereford city centre as part of the regeneration of the Edgar Street Grid.
Ad blocker interference detected!
Wikia is a free-to-use site that makes money from advertising. We have a modified experience for viewers using ad blockers

Wikia is not accessible if you've made further modifications. Remove the custom ad blocker rule(s) and the page will load as expected.