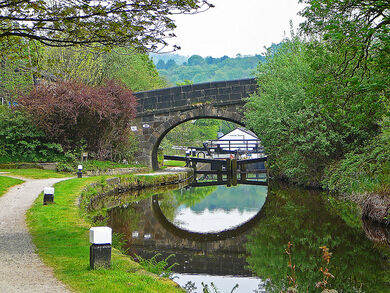 The headings in this article provide links to some of the topics in the Ideas Bank. Click on the Ideas Bank link, or the category listing to see a full list of topics.



Arts and culture The Arts Festival takes place every year in the late spring, the traditional Pace Egg plays are an annual Easter event, and the midsummer Hebden Bridge Handmade Parade is a vivid, non-commercial variation on the small town parade. Hebden Bridge attracts artists and admirers alike from many miles around.
Fair trade On the 6th of July 2003 Hebden Bridge was granted Fairtrade Zone status.
Reduced dependence on cars UK Hebden Bridge railway station lies on the Caldervale Line between Manchester Victoria and Leeds Railway Station. It is served by frequent rail services to towns and cities in Lancashire, Greater Manchester, as well as West and North Yorkshire including Leeds, Blackpool North, York, Manchester Victoria and Todmorden. There are also some infrequent services to Dewsbury via Brighouse. The railway station in Hebden Bridge is still in the original Lancashire and Yorkshire Railway colours, decorated with hanging baskets, original signage and luggage trolleys.
Bus services in the town are primarily operated by First Group plc, and operate to many local towns and villages, most frequently to Halifax (592), Burnley (589) and Rochdale (592). However, Keighley District Buses connect Hebden Bridge with Haworth, Oxenhope and Keighley. The "Hebden Bridger" is a local bus operated by WYPTE that serves as a town centre service, also operating to local villages including Heptonstall.
Transition towns Yorkshire and the Humber
Waterways in the United Kingdom For boaters (typically, people holidaying on narrowboats), Hebden Bridge's many shops and pubs make it a popular overnight or lunchtime stop, between Todmorden and Sowerby Bridge, on the Rochdale Canal - a through route across the Pennines.
Ad blocker interference detected!
Wikia is a free-to-use site that makes money from advertising. We have a modified experience for viewers using ad blockers

Wikia is not accessible if you've made further modifications. Remove the custom ad blocker rule(s) and the page will load as expected.