2011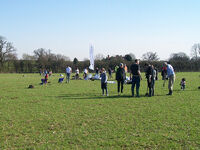 750,000 tree seeds sown in UK's largest new native woodland, 20 Oct [1] topic, place


2010
| | |
| --- | --- |
| | Over 300 locals turn up and plant over 7,000 trees between them at a community planting dayon Saturday January 30th. The Heartwood Forest site has now been filled with around 40,000 trees in just two months, all planted by willing volunteers, with a further 600,000 to go in the ground in the next ten years. [2] topic, place |
2008
Woodland Trust to create England's largest new native forest, July 28 [3]

England's largest continuous new native forest is to be planted in Hertfordshire by the Woodland Trust, creating a broadleaf woodland covering 850 acres near St Albans.
The proposed new forest will benefit people and wildlife alike, will be open to the public and will create a woodland asset within 20 miles of the centre of London.
The Trust is intent on planting more than 600,000 native trees on land it is planning to buy near Sandridge, between St Albans and Harpenden.
Comparisons
Edit
The new Hertfordshire Forest will be
Bigger than Sherwood Forest Country Park (450 acres)
Bigger than Hyde Park and Kensington Gardens combined (collectively 625 acres)
Twice the size of Regents Park (410 acres)
Larger than Whipsnade Zoo (600 acres)
Costs and fundraising
Edit
Site purchase, planting of trees and management costs for its first five years total £8.5m, prompting the Woodland Trust's largest ever fund-raising campaign.
"Native woodland is our equivalent of the rainforest. Woods and trees are not only good for the soul, they are life enhancing and make a real difference to people's health and wellbeing."
"We estimate that two million people live within 15 miles of Sandridge alone. Our new wood will provide a large and accessible space for people at a time when there is huge pressure to develop and build on land in the south east"
The land, currently farmland, has pockets of irreplaceable ancient woodland providing precious wildlife habitat. But the site also offers the charity its most exciting woodland creation opportunity in England in its 36-year history." Sue Holden, Trust chief executive.
England has lost half its ancient woodland since the 1930's, either to development, agriculture or planting with non-native conifers - leaving just five per cent of native woodland cover and making England one of the least wooded countries in Europe.
Trees, woodland and forest

Portal
-
campaigns
-
news
-
Images
-
A-Z
References
↑ woodlandtrust.presscentre.com, 20 Oct 2011
↑ Woodland Trust, 2 February 2010
↑ Woodland Trust, July 28
Ad blocker interference detected!
Wikia is a free-to-use site that makes money from advertising. We have a modified experience for viewers using ad blockers

Wikia is not accessible if you've made further modifications. Remove the custom ad blocker rule(s) and the page will load as expected.