2011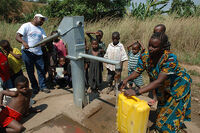 Urban horticulture in the Congo reaps $400 million for small growers, FAO, 10 June [1]

2009
Worldwatch Institute launch two-year project to point the world toward innovations in agriculture, supported by a $1.3 million grant from the Bill & Melinda Gates Foundation, July 8 [2] The project will focus specifically on sub-Saharan Africa. Among the many innovations and approaches that Worldwatch plans to examine are
Adding nitrogen-fixing plants into crop rotations as a low-cost solution for enriching soils and breaking weed and pest cycles;
Overcoming freshwater shortages with rain harvesting, efficient irrigation, micro dams, and cover cropping;
Strengthening local breeding capacity, including the use of farmer-run seed banks and genetic markers of important crop traits;
Tapping international carbon-credit markets to reward farmers for enriching their soils and planting carbon-sequestering tree crops;
Involving women farmers in decision-making at all levels.
References
↑ cityfarmer.info, 10 June 2011
↑ Worldwatch Institute, July 8, 2009
Ad blocker interference detected!
Wikia is a free-to-use site that makes money from advertising. We have a modified experience for viewers using ad blockers

Wikia is not accessible if you've made further modifications. Remove the custom ad blocker rule(s) and the page will load as expected.