2011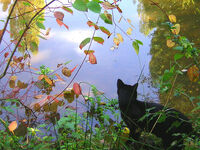 London's gardens becoming less green: 57% (22,000 ha) of London's garden land is vegetated (measured in 2006-08). But this area has fallen from 25,000 ha in 1998-99. That's a 12% drop of some 3,000 ha, lost at a rate of 2.5 Hyde Parks per year. 8th June, 2011[1]

Allotments: neighbourhood planning powers currently being trailed across the country will provide communities with a means to boost the number of sites with powers to protect existing allotments and identify new plots, say government, 7 May [2] In addition requirements for councils to provide allotments will be safeguarded as part of a wider review into reducing statutory burdens on local authorities.

2010
Comment
2010
The legal perils of 'grow your own', 27 July [3]
2009
Make better use of the estimated 3,500 hectares of unused brownfield land – the equivalent size of 25 Hyde Parks – to create new community allotments, NLGN, September 14 [4]
Your comment
- Contribute via our
Forums
or a
comment
type article, or on any article via its talk page - click on 'talk' link at top of page
| | |
| --- | --- |
| | Number of people waiting for an allotment rises by 20% over the last year. National Society of Allotment & Leisure Gardeners considering legal action against councils which have not met their statutory duty to provide allotments. 26 April [5] |
| | |
| --- | --- |
| | Complete phase out of peat from the amateur gardener market by 2020 aimed for by campaign, 8 March [6] |
| | |
| --- | --- |
| | Government to set up national community land bank to act as a broker between land-holders and community groups who want somewhere to grow food, 3 March [7] |
2009
1,000 new allotment plots will be created on National Trust land in the next three years to give local communities the space to grow their own fruit and vegetables. February 2009 [9]The initiative comes as demand for growing spaces is at an all time high - with more than 100,000 people currently on allotment waiting lists – as people look to spend more time with friends or family, exercising in the outdoor 'gym' and enjoying the fresh food they can produce. Each of the new growing spaces will be created on communities' doorsteps throughout England, Wales and Northern Ireland, and will be registered through the new Landshare website set up by Hugh Fearnley-Whittingstall to 'match-make' between keen growers and available land.
Growing and gardening

Portal
-
news
-
resources
-
personal options
-
A-Z
/
UK
-
Europe
-
USA
References
Ad blocker interference detected!
Wikia is a free-to-use site that makes money from advertising. We have a modified experience for viewers using ad blockers

Wikia is not accessible if you've made further modifications. Remove the custom ad blocker rule(s) and the page will load as expected.